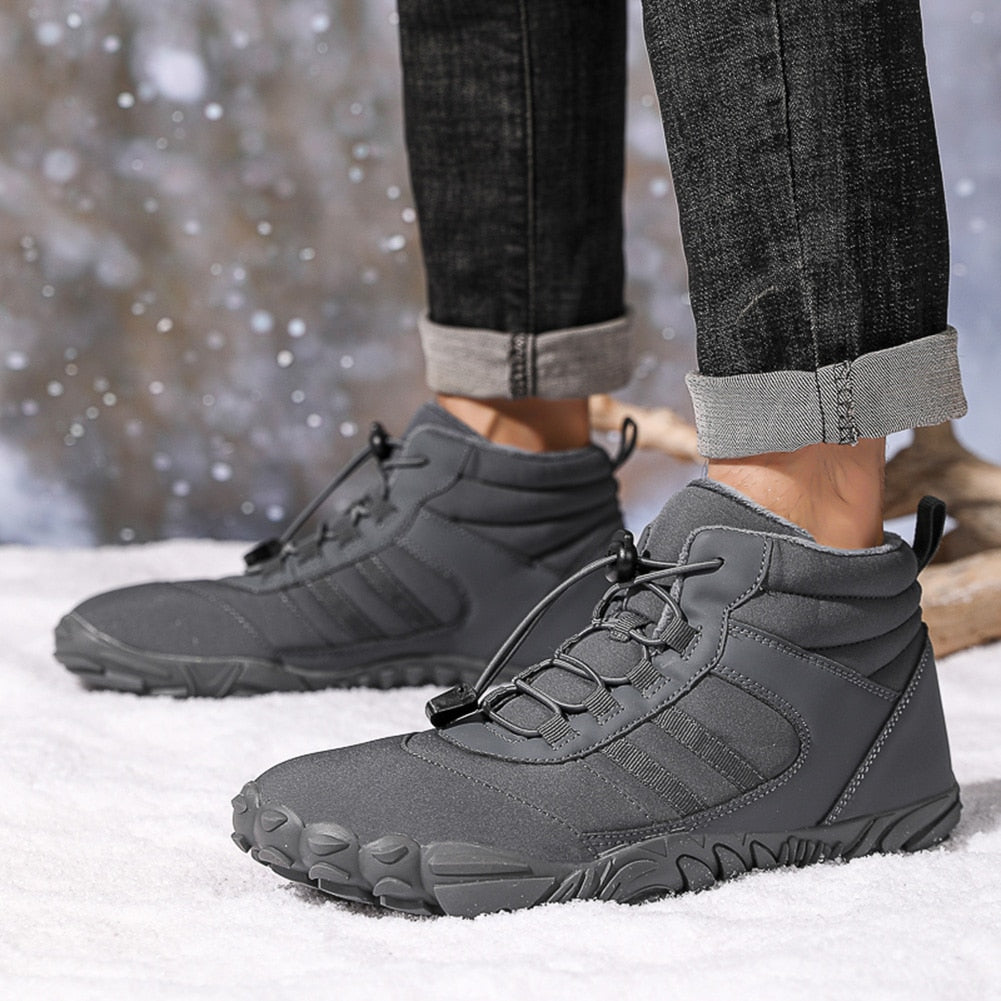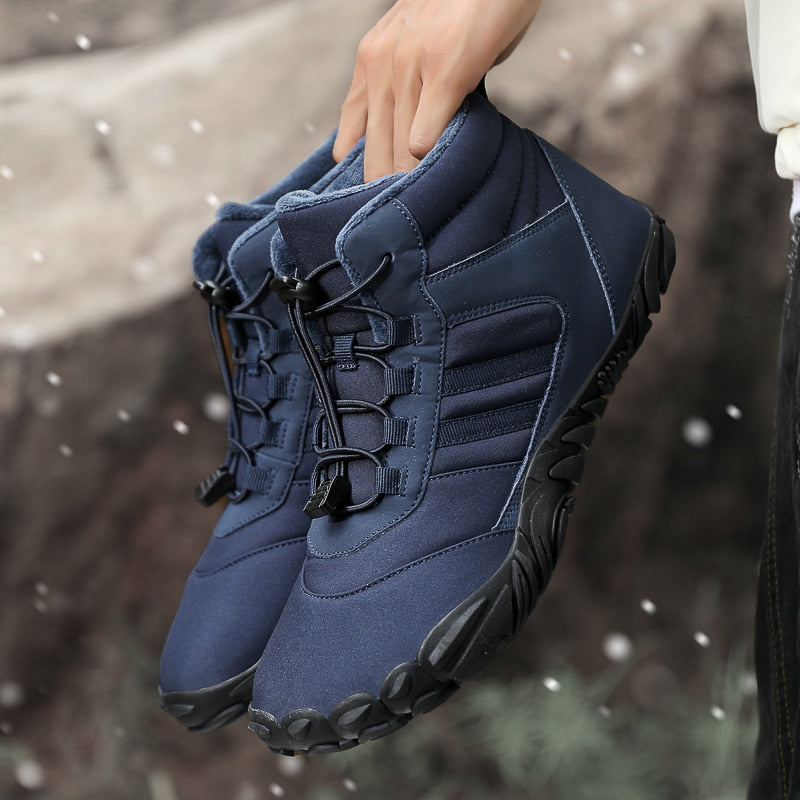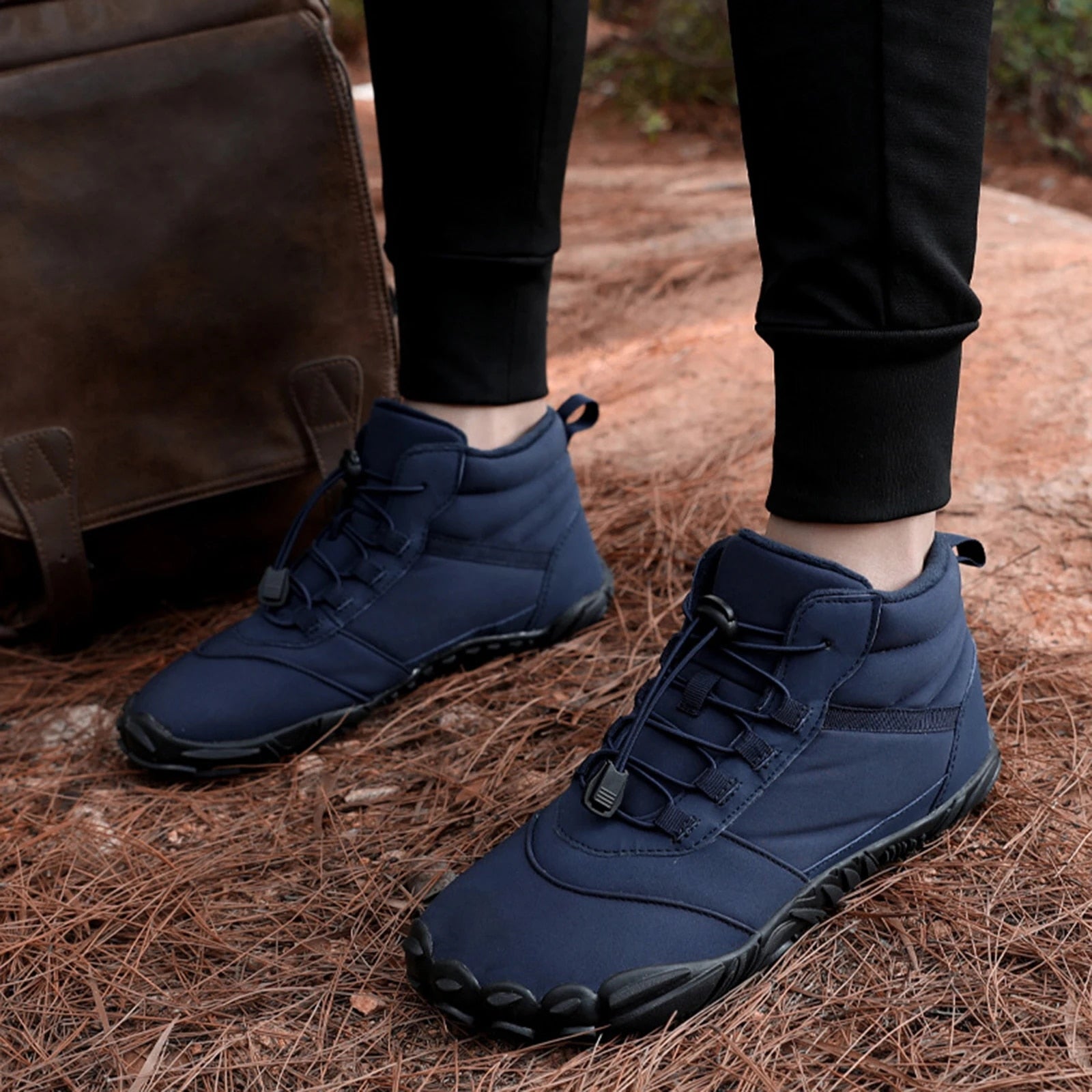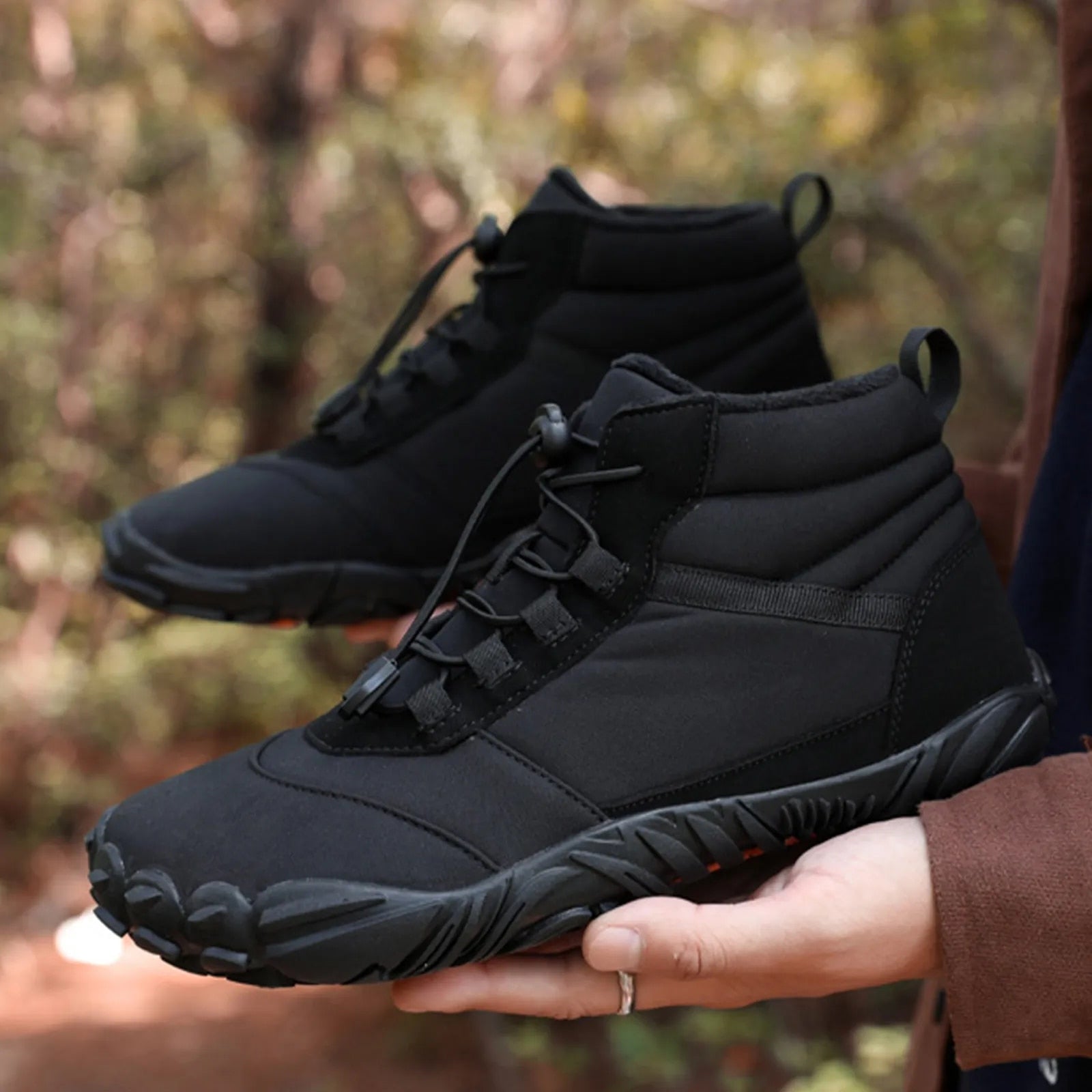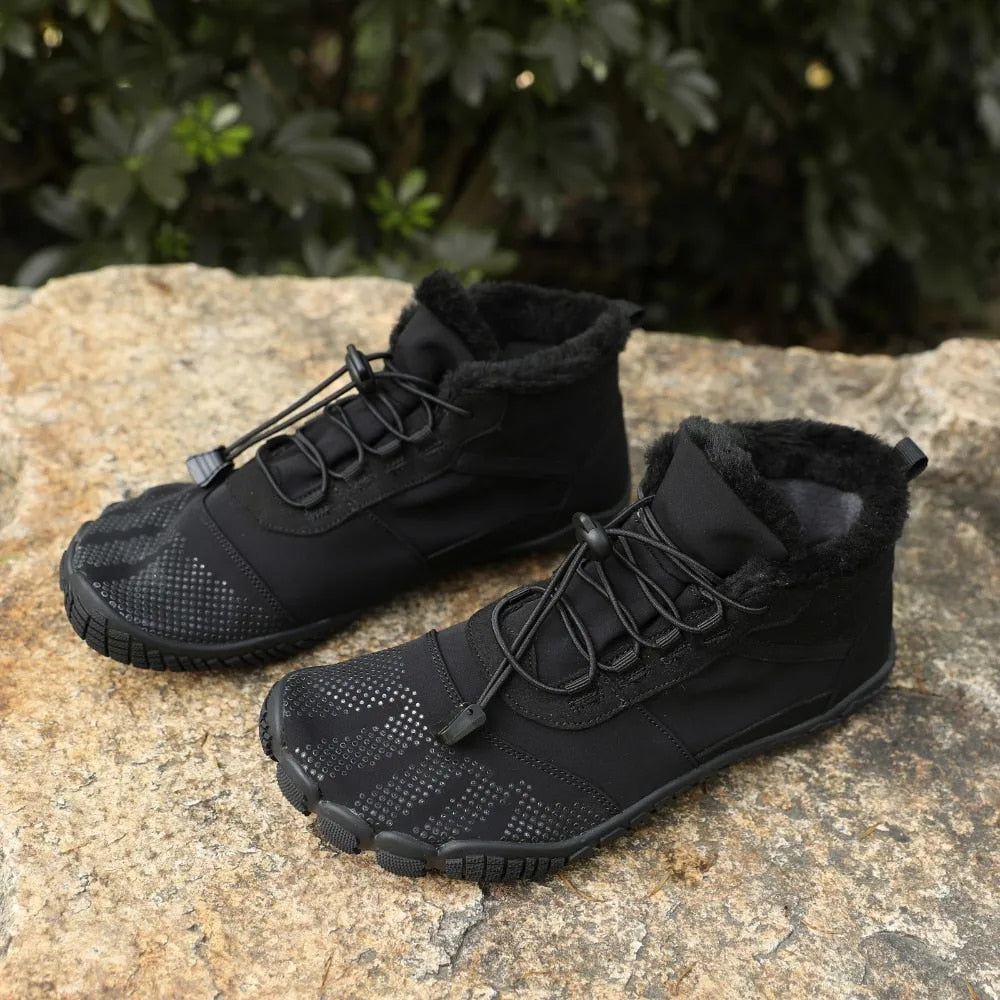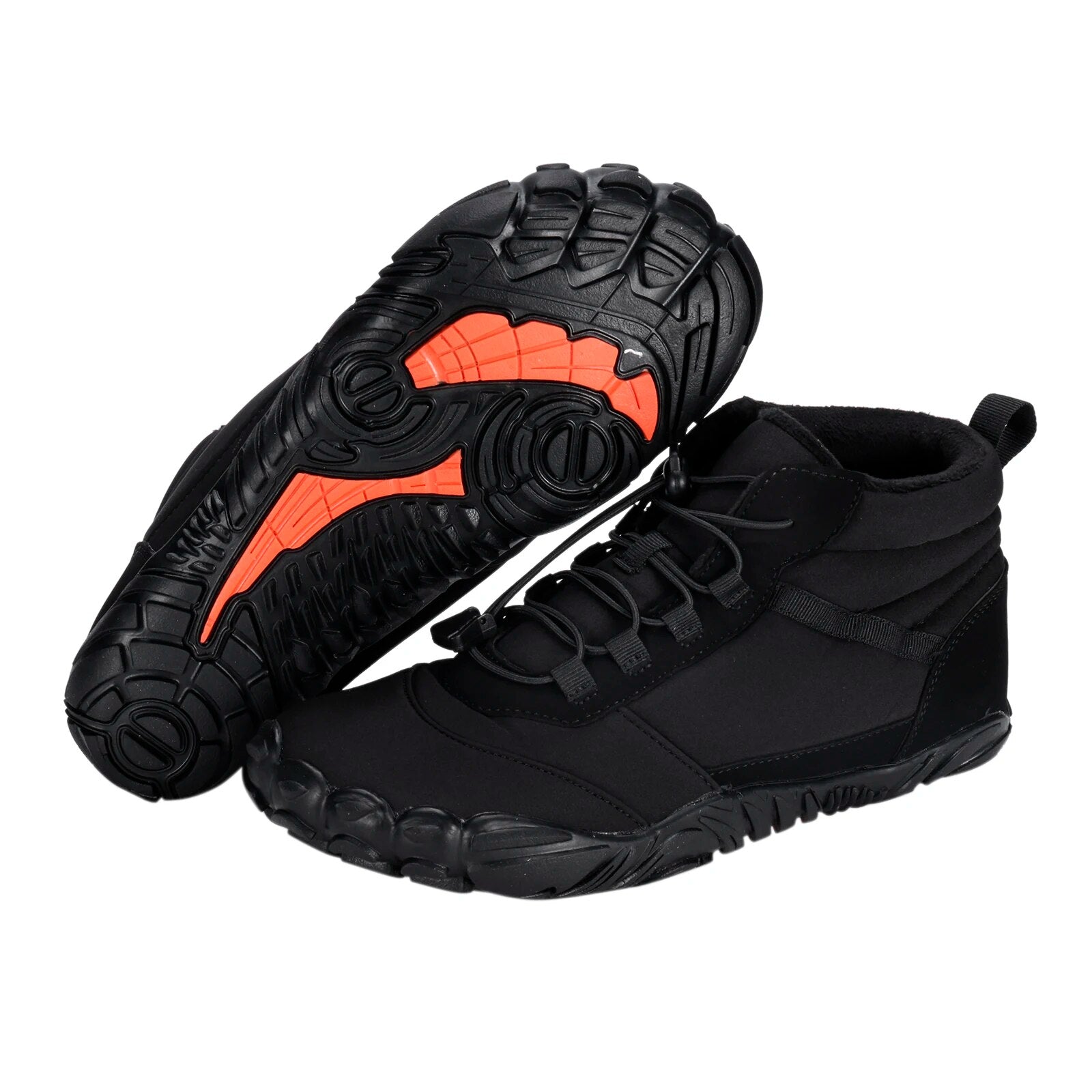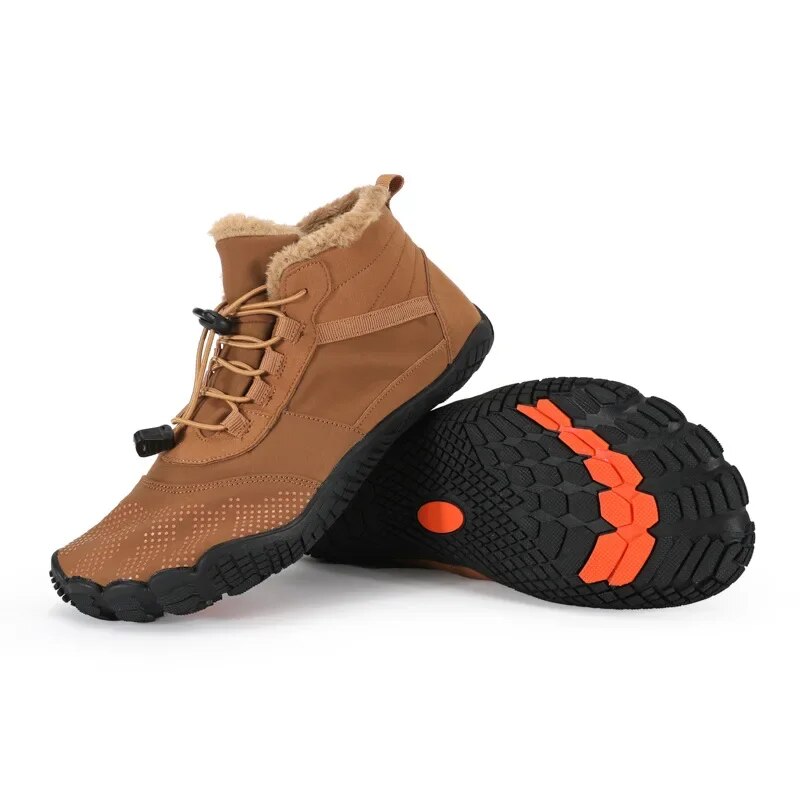 ArcticStride™ Winter Barefoot Shoes
Money-Back Guarantee • 26.637 Happy Customers • Try Risk-FREE
Dreaming of a Cozy Winter? Walk into winter with assurance and comfort!
Step confidently through the winter wonderland with ArcticStride™, a harmonious fusion where unrivaled comfort seamlessly intertwines with superior traction. These aren't just shoes; they're your ticket to elevating the joy of your daily winter adventures. Picture this: each step, a delightful blend of coziness, support, and the assurance that you're as sure-footed as can be.
Say Goodbye to Worries of Slippery Winter Walks
Ever feel like winter turns your daily walk into a risky ice dance? Fear not, because  ArcticStride™ is your trustworthy buddy, providing the assurance you need to conquer those frosty sidewalks. Slip these on, and suddenly, the whole slipping-and-sliding drama is over. With its non-slip technology, it's like having a personal stability superhero, ensuring your daily walks are not only secure but also worry-free.
Who says winter has to be all about shivering toes and uncomfortable shoes?
Not anymore. With ArcticStride™, your ticket to a daily dose of foot paradise. Imagine slipping your feet into a warm, comforting embrace every morning and turning each winter day into a cozy and soothing experience for your feet. Embrace the luxury of warmth, kick discomfort to the curb, and let ArcticStride™ redefine your daily winter comfort. Because, let's face it, happy feet make for a much happier you.
Therapeutic Support for Every Step You Take
Bid farewell to the aches and strains that often accompany winter walks; ArcticStride™  is your trusted orthopedic companion. Imagine a shoe that is crafted to naturally fit your body's movements providing the support your feet and joints need, ArcticStride™ offers enhanced foot posture and healthier foot alignment, because your orthopedic health matters at every step you take.
ATTENTION: 
CHOOSE ONE SIZE BIGGER FOR BEST FIT. 
Save Money with Shoes Built to Last for Years
When you choose our footwear, you're not just making a purchase; you're making a smart investment in enduring quality. Picture shoes that withstand the test of time, providing comfort and style that remains relevant year after year. So, while you save money in the long run, you're also ensuring your steps are cushioned in reliable, timeless footwear that stands strong against wear and tear. Choose longevity without compromising on style, choose ArcticStride™ -  it's an investment that pays off with each step you take.
Why ArcticStride™  instead of other brands?
Customer Opinions on ArcticStride™ 

 

:
Your advantages with the ArcticStride™:
✅ Customize Your Comfort with an Adjustable Fit: Tailor your walking experience with ArcticStride™ by easily adjusting the fit for a snug or roomier feel, ensuring your shoes are uniquely tailored to you.
✅ Effortless On-and-Off Transition: Save time with ArcticStride™ thanks to its easy slip-on design. Effortlessly transition in and out of your shoes, always prepared for winter activities without the hassle.
✅ Environmentally Friendly Materials: Crafted with sustainability in mind, ArcticStride™ uses eco-friendly materials, making it an ethically conscious choice for your winter footwear.
✅ Combat Odors with Advanced Technology: Bid farewell to unwanted odors with ArcticStride™. Its innovative materials and design work together to combat microbial growth, keeping your shoes fresh and odor-free during extended wear.
✅ Expert-Recommended for Prolonged Comfort: ArcticStride™ comes highly recommended by medical experts for its ability to prevent foot misalignment and ensure prolonged comfort, making it a trusted choice for your winter footwear needs.
If you have any questions, we have the answer for you
Is it appropriate for extremely cold temperatures?
Certainly, our product is engineered to endure frigid temperatures and deliver ample insulation, guaranteeing your feet remain comfortably warm in diverse winter environments.
How do I clean and maintain it?
Maintaining ArcticStride™ is easy. Simply wipe away any dirt or debris with a damp cloth. For more persistent stains, a gentle brush or sponge can be utilized. It's advisable to steer clear of harsh chemicals as they may impact the waterproofing. Allow the shoes to naturally air dry.
Can I wear this in snowy conditions?
Absolutely! Our product is furnished with advanced waterproof technology, making it well-suited for snowy environments. The slip-resistant soles ensure excellent traction, providing stability on snow-covered surfaces.
Is it suitable for prolonged wear throughout the day?
Yes, ArcticStride™ is meticulously crafted with all-day comfort in mind. The combination of a flat, optimally cushioned sole and a design promoting barefoot freedom allows for extended wear without compromising on comfort.
ATTENTION: 
CHOOSE ONE SIZE BIGGER FOR BEST FIT. 
What is included in the package?
1pair x ArcticStride™ Non-Slip Barefoot Shoes
They live up to the hype!
ArcticStride™ turned winter walks into a joy. The waterproof feature is genuine, and the easy cleaning is a plus.
Highly recommended!
I took these shoes on snowy trails, and they performed exceptionally well. The non-slip technology is a game-changer! Its very comfortable, stylish, and reliable.
The grip is superb :)
This winter barefoot boots are stylish and functional, a rare combination. I appreciate having boots that not only keep me warm but also look good on snowy days.
High quality shoes!
Definitely a win! Got these shoes for a fair price but very high quality! Love these..
Find out why more than 25,000 happy customers trust PerfectBack
Targeted pain relief

Healing problems at the root

Expert knowledge

Products recommended by experts

Satisfaction

Thousands of positive customer experiences
Further favorites of our customers:
Free worldwide shipping

We offer free and insured shipping.

100% satisfaction guarantee

Is something not 100% right? We solve the problem!

Money-back guarantee

Not satisfied? Use your money-back guarantee.

24h customer support

Simply send us an e-mail, we will reply in the shortest possible time!